Hallways are not merely primary pathways between the rooms of a home. A lot more can be done if the interior design is well-planned. From stylish lighting to smart storage and decoration, you can get plenty of ideas, information and inspiration here to give your hallway a wow factor! More than just being a corridor that serves as a pathway to other places, the hallway is definitely worthy of your attention. 
There is a range of hallway decoration ideas for every budget here, so browse through these 16 beautifully decorated hallways and take note of the design scheme described in order to make your own hallway functional and flawless.
1. An elegantly decorated hallway dressed in shades of beige and furnished with comfy furniture to exude a welcoming atmosphere.
2. A natural design with a wooden bench matching the door, warm mood lights and a potted plant to invoke a peaceful soothing mood.
3. A mellow colour scheme with a coffee table setting and dazzling pendant lamps hanging from the false ceiling to create a cosy corner.
4. If the hallway is quite small, use a mat with bright colors that pop on the floor to make it look bigger and better!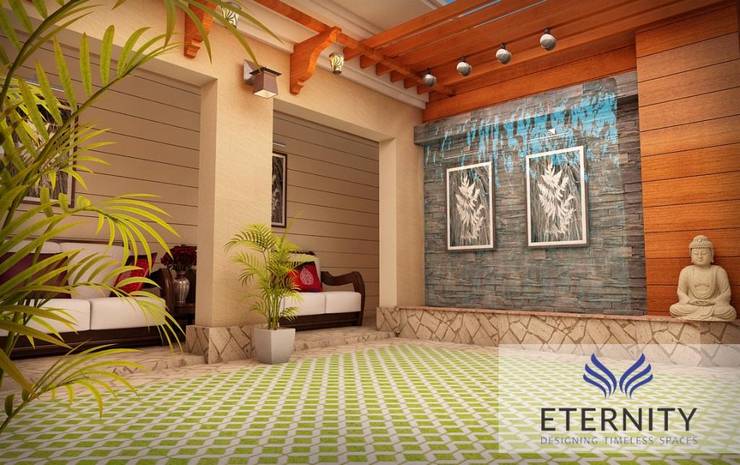 Interior design
Eternity Designers
5. A small intricately designed mandir in the hallway for puja to bring good energy to the home and blessings to its residents.
6. For family homes, adopt a design strategy like this, with functional furniture for storage to utilize the space to the fullest.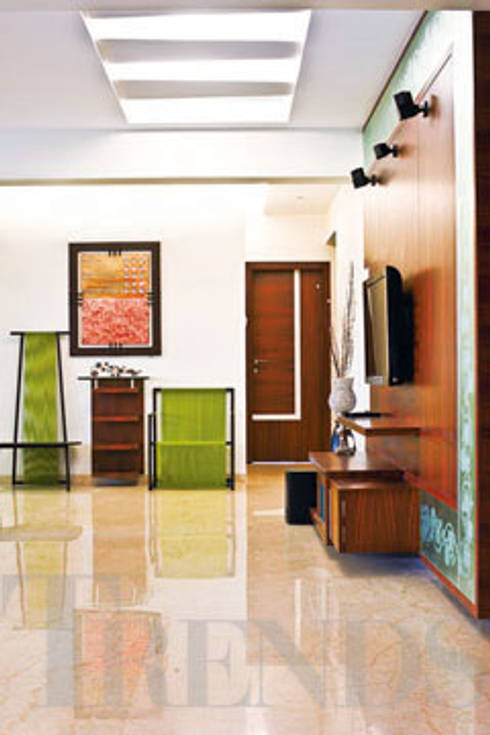 Other Interior projects
Aum Architects
7. Comfortably furnished with upholstery in calm hues of blues contrasted with darker shades and bright white surroundings to create a serene space.
8. A water feature against a stone wall backdrop illuminated by pendant lamps to give a sophisticated feel.
9. A grand sculpture of Buddha and a romantic white fountain against a marble background to give a royal feel to the entrance.
10. For narrow hallways, an image galley along the wall, fake ceilings and longitudinal designs on the floor can create the illusion of a wider space.
For more ideas and inspiration, have a look at our article titled 'how to utilize a narrow hallway.'
11. If you have limited space, do not crowd the hallway with unnecessary furniture, instead use multi-functional furniture to ensure there is enough space for foot traffic.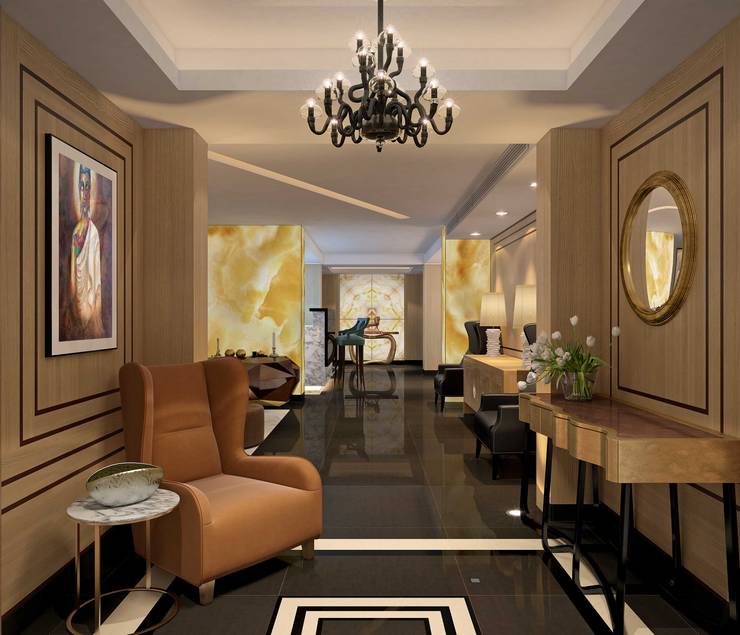 Apartment with a Terrace
Aijaz Hakim Architect [AHA]
Here are 8 ways to optimise hallway space for your further reference. 
12. Another brilliant example of how small hallways look better with minimal furniture and designs. Two corner chairs are enough to make a comfortable seating area.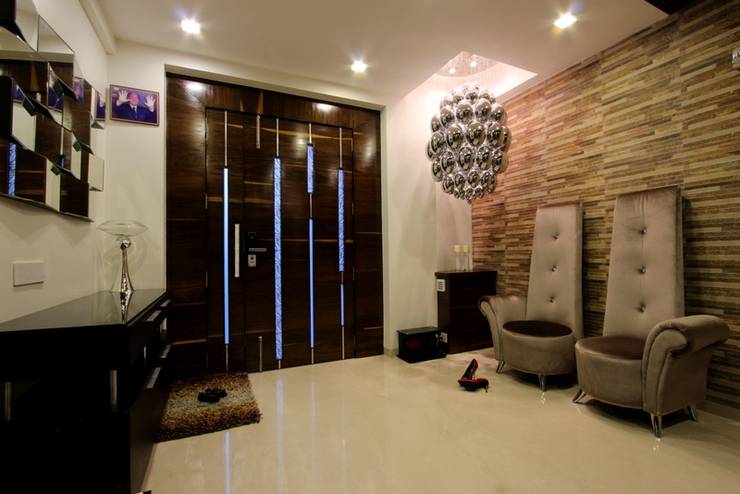 Entrance Lobby
Mind Studio
13. A modern hallway is best depicted through neutral light colours, while white stone figurines and chandeliers give a touch of class and sense of distinction.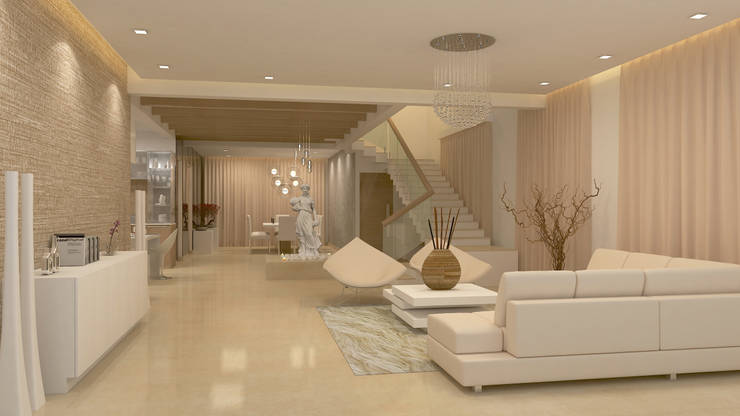 BELLEZEA, NAMBIAR BUILDERS, SARJAPUR, BANGALORE. (www.depanache.in)
De Panache - Interior Architects
14. Book lovers can create a chic mini library with state of the art bookshelves and funky chairs to personalize the hallway according to their interests.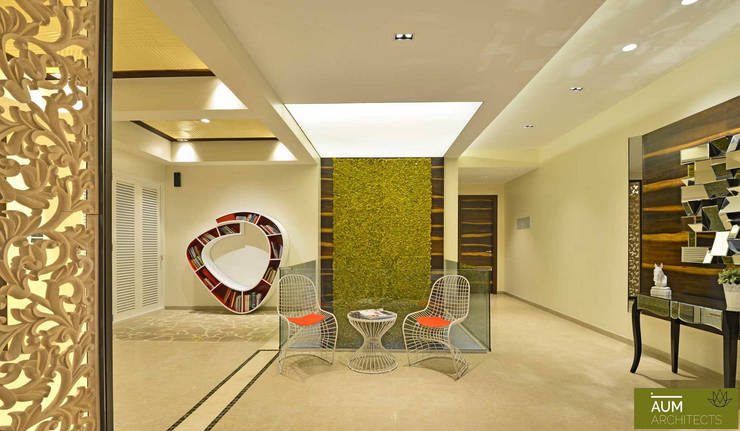 Duplex Apartment design
Aum Architects
You can refer to various designs for a home library to get inspired. 
15. If nothing from the above list works for you, try integrating a mini garden indoors.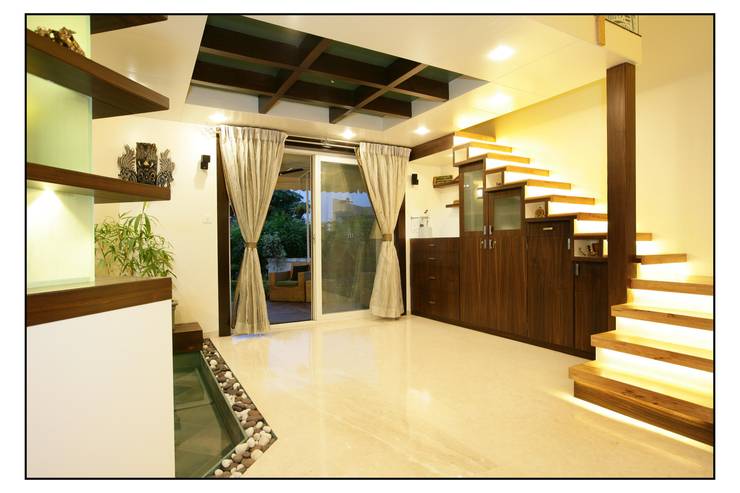 The Stairs take you up to the 'Den'
Navmiti Designs
Here are some indoor gardens you can browse through for inspiration. 
16. The swirly marbled stone wall and floor gets grounded with a focal wooden wall to give a surreal dreamy feeling to this space.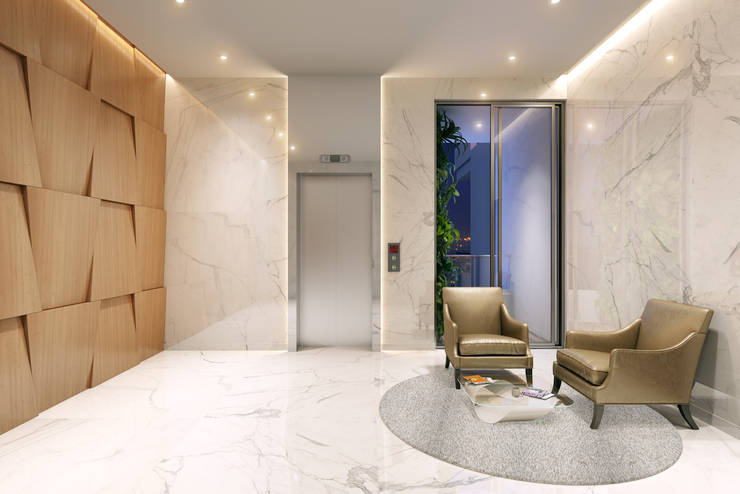 HYDE PARK TOWER, BIBBEWADI, PUNE
Chaney Architects
For more ideas like these, you can have a look at our article titled 'stunning hallway decoration ideas.'