Good for you for knowing that a kitchen is where you cook, bake, slice, stir etc. However, a kitchen is so much more than a working space; it is also one of your house's rooms, which means it, too, deserves to have a certain look and design to not only make you feel welcome, but cause a jealous look or two from guests in your direction—fun, right?
So, to increase your friends' envy levels and your home's style factor, see herewith 12 bright ideas on how to make your kitchen more functional, more practical and much more stylish…
1. Functionality is important, sure, but don't forget about design – a tiled backsplash can go a long way in making your kitchen enjoy more character.
2. Want that rather small kitchen to look bigger? Glass-door cabinets can make the space appear more light and open.
3. What do you see here? A T-shaped island. Know what we see? A double-duty design that can be both an extra working space and dining area.
4. A kitchen cart is the answer for when you wish that island could just roll out of the way to conjure up a little extra legroom.
5. Don't neglect your lighting – in fact, opt for layered lighting, seeing as the kitchen is a space where adequate sight is vital.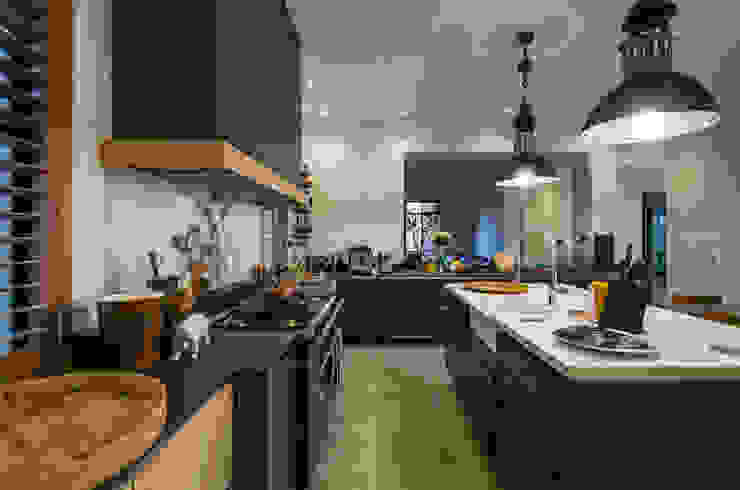 Modern Farmhouse—Silverlakes Nature Reserve
Karel Keuler Architects
6. How about a quaint little table with chairs to enjoy an informal dining space, making your kitchen feel more welcoming and homey?
7. Pity the standing cook – we suggest a fabulous floor rug for not only a soft underfoot sensation, but also some extra style.
8. Don't neglect your kitchen ceiling – an intricate design such as this can serve as an appetizing conversation topic.
9. Your kitchen is your work space, so insert personal little design details to let it be as unique (or quirky, or elegant, or stylish… ) as you!
10. A neutral colour palette is the cheaper option when it comes to a kitchen style-up, seeing as that light background hue can go with any additional décor- and furniture tones.
11. Storage is important, yes, but be sure to include a display area or two to show off your fabulous crockery / vintage dinner plates / elegant wine glasses etc.
12. If possible, let your kitchen open up onto a terrace to not only enhance space, but ensure a social ambience for those hearty get-togethers.