When you arrive home after a long day you want your dwelling to feel welcoming, warm and inviting. While we might pay particular attention to our abode's interior, the space outside one's residence is often neglected or forgotten. Today we're going to focus on this area, and show you how to update it with a little pizzazz and flair. 
From spacious tiled spaces that are low maintenance to beautifully landscaped entrances replete with lush foliage, there is something to suit everyone's taste or preference. If your property's entry is looking a little worse for wear, it's probably a good time to give it a refresh and update. Take a look at our 12 ideas below and pick something to suit your home today!
1. This simple, white and low maintenance entrance ticks all the boxes with its sleek cream tiles and uncomplicated, uncluttered aesthetic.
2. A stylish front garden is all you need to create a welcoming front entry point for your house. Check out this eclectic range of tropical plants that would be perfect for your Hong Kong dwelling.
3. Lush and inviting is a scheme effortlessly achieved by this next home. Blending timber cladding with plenty of greenery, the home is earthy and sympathetic to its surrounds.
4. Creatively carved timber offers this concrete home a sense of connection with nature, while the motifs elegantly catch the eye, adding a unique touch.
5. If you want to feel privacy and security in your home then check out this next example. Contemporary and timeless the steel door steers away burglars, while looking fabulous.
6. The ultimate modern front door, this next setup boasts a gorgeous array of hues and textures to create an original ambience and atmosphere.
7. Chic and understated, number 7 looks refined and sophisticated with a black and white colour palette.
8. A colourful jungle that bursts with personality, this next house and garden adds verve and vivacity with a pink shade and plenty of plants.
9. The perfect home style cottage, our next dwelling offers a traditional aesthetic that will stand the test of time.
10. Wonderfully large and luxurious, this mansion is sure to impress with its modern fence, as well as an array of timber inclusions and accessories.
11. Boasting a European style, this entrance is simple, clean and well maintained.
12. Country style homes are wonderfully inviting, with rich timber tones, subtle hues and plenty of ambient lighting.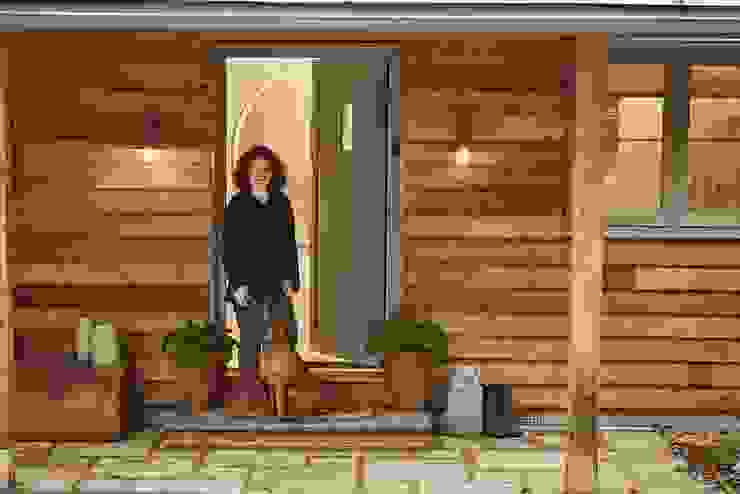 Front door
The Wood Window Alliance
Did you enjoy these entrances? If you'd like a little extended reading, we recommend: 12 easy-to-build garden rooms for the perfect escape