If you are bored of seeing the same old façade of your home, do you know that just a small renovation of the entrance can completely transform it and make it look like a new house? The entrance of your home sets the expectation of what lies behind the walls. By playing with the structure, gaps, doors, pergolas, wall covering, flooring and water features, among other elements, it can be given a modern look.
Take a look at these stunning professionally designed entrances to draw inspiration to redesign your home entrance.
1. Entrance with a wooden walkway over a lit water body that acts as a mirror that reflects light and space
2. Minimalist look presented by horizontal grills set on tall flagstone walls, which curve around the corner
See some minimalist homes here.
3. On an elevated plot, the entrance gradually staggers up step-by step and has a green border on one side
4. A modern entrance with a camouflaged slatted door and a matching wooden deck leading to it
5. A large wooden door with carved reliefs and walls at the side cladded with stone in an interesting curved pattern
6. Cement blocks laid in an irregular pattern on the grass, leading up to a wooden door
7. Narrow staircase surrounded by greenery, with built in lights that highlight the entrance at night
8. A symmetric entrance with horizontal planks leading up to the tall door, decorated with potted palm trees on either side
9. An elegant façade that combines glass, stone and wood with a pretty pond at the side
10. Natural harmony created by a vertical green wall on the pillar next to the wooden door
11. Stepping stones bordered by pebbles create interesting textures leading to the entrance
12. Textures in stone, include a mix of tiles and pebbles, with a couple of plants providing relief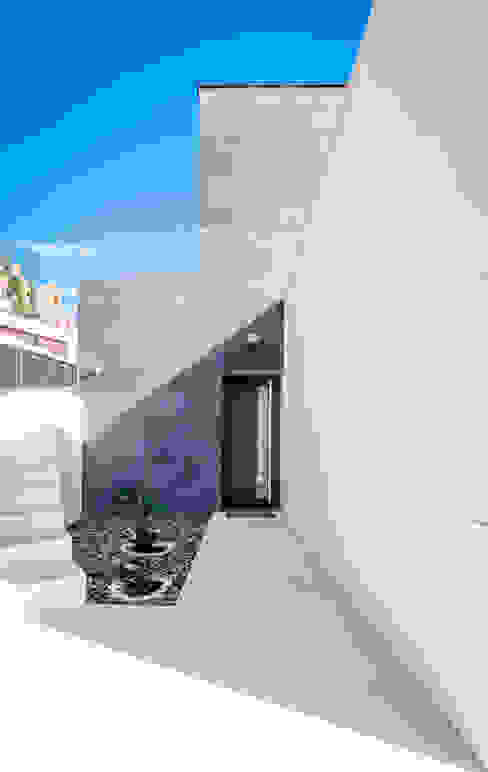 Entry door
08023 Architects
13. Access staircase in marble bordered by pebble and plants with an interesting sculpture on one side
14. Wall shelves in concrete create an interesting vertical garden leading to the entrance